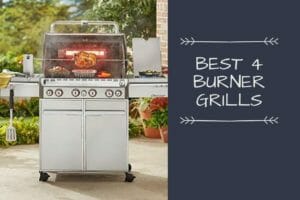 If you want to enjoy special events and occasions with family and friends by making barbecues or grilled meat, then 4-burner gas grills are the foremost grill to celebrate parties as the name shows that these 4 burner grills provide high and even heat which would be enough to make burgers steaks and sausages.
You can cook vegetables meat properly by setting different heat zones. The warming rack feature allows you to keep food warm until the other food is ready to serve. The ignition button and side table hooks or thermometer and many more exciting features to conduct barbecues parties conveniently.
These grills are constructed with high-quality stainless steel, which gives durability and long life to grill. If you decide to buy four burner grills, then you should buy the best grill. We will help you determine what grill to choose by writing the product features and the pros and cons of each model. In this way, you can purchase the grill that will best fit your needs and desire.
#1. Cuisineart CGG-7400 Propane, Full Size Four-Burner Gas Grill – Editor Choice
If grilling is your passion and you want to enjoy it seriously, then this grill is made for you. The large cast iron cooking grate is specially made to keep the heat for much longer than any wire grate. The 443 square inches of the grilling surface is large enough to cook for big parties. The additional space of 163 sq inches for the warming rack is also given. The warming rack is used for placing the cooked food on a rack to keep it warm.
You can keep vegetable chicken and bread warm. The Cuisinart CGG-7400 with Stainless steel 4 burners of high quality that provide 11000 BTUs of a total of 44000 BTUs. The heat can be adjusted from warm to burning hot. The shrimp vegetable meat can be perfectly cooked on this high heat. Then it can be moved to another warm side of the grate.
Cuisineart grill is made up of stainless steel which makes it a durable and long-lasting grill. Its lid heat control knobs and burners are of stainless steel. There is no need to make matches or lighter because each burner starts with just twisting the knob. Heat can be adjusted from low to high by just twisting.
Features
Built-in thermometer to maintain and adjust the heat
No need to take bottle opener because there is attached bottle opener
Two side tables to keep cooking accessories and sauces and utensils
Drip tray to collect grease and fats from oil
Wheels help to move it easily
High heat by independently controlled burners
#2. Weber 62006001 Genesis II S-435 4-Burner Liquid Propane Grill, Stainless Steel
Weber 62006001 Genesis II S-435 is superior quality best gas grill by Weber with four stainless steel main burners provides 48000 BTUs of heat. The Weber works with the GS4 grilling system for the best quality grilling experience. The heat is distributed evenly and continuously on all surfaces of the cooking area. The 7mm stainless steel rod distributes heat equally in the cooking area. It comprises the primary cooking space of 644 square inches and 198 sq inches of warming rack. The side burners with 9000 BTUs of heat can be used to sauté veggies or to cook bread.
The ignition button with just a twist of a button, you can start grilling. The side table with hooks can be used to place essential tools and plates during grilling. The grill can be cleaned easily. Pull out the grease tray and scrape it using a plastic knife, and it can be washed by putting the tray into the sink and pouring hot soapy water on it.
The thermometer is fixed to check the food from start to end and shows temperature on screen or your smartphone (sold separately), and the storage cabinet under the grill can be used to place all the necessary tools. The fuel gauge to check the quantity of fuel is given next to the gas tank.
Features
You can set the sear mark button on high heat
Stainless steel burners provide high and even heat
Warming rack to keep food warm
Storage box under the grill
Side shelf and lid
The side burner can be used to make some additional side dishes
Efficient grease management system to reduce the flare-ups
#3. Char-Broil 4-Burner Cart Style Liquid Propane Gas Grill, Stainless Steel
This is another excellent quality four-burner gas grill used for parties to enjoy big meals. The 425 square inches of primary cooking space with a warming rack is made of iron that prevents the meat from sticking. The stainless steel burners deliver 36000BTUs of heat the burners can be used to set temperature from warm to very hot. The additional side burner helps make tea and sauces during the grilling. The side burners provide 10000 BTUs of heat. The other side of the shelf can be used to keep the plates and tools.
The electronic ignition system for easy and quick start no need to burn lighter or matches. There is a temperature device to check the heat level in the process of cooking.150 sq inches of area on warming rack to keep the bread or veggies warm. It includes large wheels for easily moving and a lid to cover it in any uncertain situation.
Features
Perfect design and made up of stainless steel of durable quality
Porcelain-coated iron grates are rust-resistant and are easy to clean
The extra burners on one side are useful to make veggies during grilling
Grease catching drip tray can be removed for cleaning
Control knobs to adjust the heat of each burner
#4. Char-Broil Stainless Steel 4-Burner Cabinet Style Liquid Propane Gas Grill
Char Boil is popular due to its new and innovative features of grills. The porcelain-coated cast iron cooking grate of 425 sq inches is rust-resistant. This large cooking area provides space to cook 20 burgers at a time. Stainless steel 4 burners are durable and provide 36000BTUs of adjustable heat. On the other side, the side burners with 10000 BTUs on heat this burner can be used to make sauces or tea during grilling. If you do not want to use it, then its lid protects the burner from dust
The char broil stainless steel with a warming rack of 150 square inches can be used to place cooked food to keep it warm. Each burner work separately to control heat and can start with just the push of a button. Side shelves are made of stainless steel that can be used to place necessary things used in grilling. A temperature gauge with a lid can be used to check the heat levels inside the grill. The feature which distinguishes it from other grill is that a separate cabinet is given and this cabinet can be used to place propane tank and grilling tools.
Features
Lidded burner on side and lid can be folded to increase the work pace
Grease catching tray
Separate cabinet to store necessary items
Handle to carry helps in mobility
The iron grate can be easily cleaned
Four burners provide high heat to prepare burgers and meat in less time
#5. Kenmore Stainless Steel 4 Burner Outdoor Patio Gas BBQ Propane Grill
Kenmore Stainless Steel grills with many outstanding features to enjoy tasty and juicy barbeques for big parties. This grill having 4 burners each provides heat of 10000 BTUs is enough to make fully cooked burgers and chicken for the family. The side burner with 13000 BTUs of heat can be used to make sauces and to make veggies. There is a lid on the extra burner if you need more space for working then its lid can be folded down.
The main grill grate of 459 sq inches and the warming rack of 162 square inches is large enough to make 38 burgers at a time. The space on the rack can be used to keep food and bread warm until you finished cooking
The side handles to move it easily and hooks to hang accessories help to make cooking easy. The grill fuel can be changed into natural gas with ASIN. The grill is made up of high-quality stainless steel, which can be used for many years. The storage space behind the grill can be used to place a tank. The rolling caster wheels help in mobility quickly and easily.
Features
This grill can be used for big parties

Large cooking area to cook large pieces of meat

Electronic ignition button for quick and easy start

Four powerful burners and one side burner provide even and high heat

Lid side handles and shelves and cabinet all are made of solid stainless steel
#6. Char-Broil Classic 405 4-Burner Liquid Propane Gas Grill
Char-Broil Classic 405 with a large grill size to serve a large number of friends. High-quality metal is used in construction. It has four independent burners with 32000 BTUs of heat. These adjustable burners with control knobs help to create four different heat zones for the food. The porcelain-coated grill grate with 405 square inches of cooking space helps prevent food from sticking to grill plates. The warming rack gives you space of 190 sq inches this space can be used to move cooked food from grate to rack to keep it warm.
The grease tray can be washed easily to remove fats and oils. The grill grate can also be cleaned with soapy hot water in a sink. Built-in piezo ignition can start the grilling with just the push of a button without burning matches. The side shelves are given. You can place plates and cups on these shelves. The Shelves can be folded down to increase the workspace during grilling. Grill grate cover with lid the burner during transport and storage.
Features
Two wheels of 6 inches to make the process of moving easy

Auto startup button

Large cooking area with warming rack

Stainless steel inline burners

Side shelves and handles
#7. Blackstone Station-4-burner-Propane Fueled Gas Grill Griddle Station
Blackstone Station 4 burner gas grill is made to enjoy outdoor activities conveniently assembling the grill in a few minutes. This is a simple grill with a large flat cooking area of 720 square inches. The four burners with the heat of 60000 BTUs are fixed. These burners with adjustable high heat work efficiently. Food can be cooked on high heat, and then you may shift the cooked food to a low heat zone to keep it warm. With the use of this grill no need to burn lighter or charcoal by just push of a button you can start cooking
The flat top can be used to make food for big parties and events. You can cook everything from vegetables to fish and meat. Four large wheels help to move it quickly from one place to another. The griddle top is made by a 7-gauge steel griddle top that can be removed easily.
Burners are made up of high-quality stainless steel. The grease tray can be cleaned easily by just pouring hot soapy water on it. The shelves on both sides help to increase working space by placing essential tools and utensils on shelves.
Features
Four independent control burners

Large cooking area

Large industrial wheels to move it easily

Electronic start button

Grease tray

Length of the grill is 36 inches
#9. Char-Griller E3001 Grillin' Pro 40,800-BTU Gas Grill, Black
The use of gas grills in this era is increasing many models are coming into the market with incredible features it can be difficult to choose which grill would be best.
The char griller E3001 Grilling Pro is constructed with high-quality steel with a finishing of black powder coat. The porcelain-coated cast-iron grates are rust-resistant, and the grill will be used for many years. The main grilling surface area is 438 sq inches, and 192 sq inches on the warming rack give facility to use it for big parties.
The burners with 40800 BTUs of heat also the side burners with 12000 BTUs can be used to make side dishes like veggies and sauces or to boil water. The side table on one side of the grill can be used to place serving plates and grilling tools. The electronic startup button for a quick start eliminates the need to take matches and lighter. The sturdy wheels to move it easily. The coated iron grill grates can be cleaned easily. You can use a sponge to clean the grates after every barbeque is finished.
Features
The drip tray catch grease and oils from food can be cleaned easily
Side shelve
Side burner with 12000 BTUs
The lid to use the grill in extreme weather conditions
9. Bull Outdoor Products 26039 Natural Gas Outlaw Drop-In Grill Head
Bull Outdoor products 26039 four-burner grills with 60000 BTUs of heat output with 15000 BTUs per burner. The porcelain-coated burners are rust-resistant. The cooking surface area of 810 sq inches and the swing way warming rack with 210 sq inches. To make a startup, an easy electronic ignition function is added. No need to bring matches or a lighter. The 304 stainless steel is used to construct the grill. The burners are made up of heavy cast stainless steel.
The outdoor bull products work with reliable bull technology with this technology heat division improves by 50% and creates even heat. There will be no hot and cold spots on the grilling surface. All the places on the grill will be heated equally.
The manufacture gives a two-year burner warranty and a 5-year warranty of grates and firebox. You can place this grill on a flat surface or the table. Handle and the thermometer is also added to the grill.
Features
Four burners with even heat distribution
Large cooking grate
Natural gas and liquid propane can be used
Ignition function for a quick start
Stainless steel lid protects burner during travelling
Grease catching tray
Totally made up of high-quality stainless steel
10. RevoAce 4-Burner LP Gas Grill with Side Burner, Stainless Steel
Revoce four-burner gas grill is an outstanding grill to enjoy bbq parties. The four-burner gas grills delivering 48000 BTUs of high heat output and the side burner with 12000 BTUs to make sauces and veggies. The grilling area of 480 sq inches with a warming rack of 180 sq inches that can be used to keep cooked food hot. The grilling grates are made up of porcelain-coated cast iron. These iron grates are rust-resistant and can be cleaned easily.
The ignition function is given to each burner knob for a quick start. The side tablespace can be used to place the necessary tools. The lid cover and wheels are added to move it easily. The sturdy wheels and bottle opener and thermometer are also added for the convenience of the customer. It weighs about 63.9lbs.
Features
Bottle opener
Total cooking area of 660 square inches
The four burners produce high and even heat
Totally made up of stainless steel
The grease tray can be cleaned easily
A Complete Guide for Buying a 4-burner gas grills
The burners in the gas grill with different heat levels, and you can control the heat according to your food. These grills mostly have side burners which can be used to make side dishes like tea and to sauté vegetables. The auto-ignition feature and the side table and hooks and the stainless steel structure increase the durability of the grill. The grease management system works properly and easy to be cleaned at the end of every barbeque.
Size of the grill
The size of the grill can be small, medium, or large. If you want to make barbeque for big parties, then buy a large size grill. The larger the grill, the price will also be higher. You should also check the size of the grill according to space in the backyard or lobby.
Price of gas grills
Keep the budget in your mind while determining features. The grill with a high price will be more featured. By spending $500, you will get the grill which will be a more advanced and long-lasting big size grill.
Fuel type
For most gas grill you can use natural gas or liquid propane as fuel. Propane is best used as fuel because it will be used efficiently, and propane will be less harmful to the environment. In most gas grill fuel gauge is fixed to check the level of fuel.
Construction of grill
The gas grills are constructed with high gauge stainless steel that is rust-resistant and can be used for many years. The porcelain-coated grill is also durable and can be cleaned easily. The grill grates are made up of cast iron. The grill should be a well-structured grill to be used for many years.
Additional features
The gas grill also has a storage cabinet and side shelves where you can place your accessories. All gas grills have a thermometer to monitor the temperature and are also featured with hooks and a bottle opener roller coaster wheel to move it conveniently.
QUESTIONS AND ANSWERS(FAQs)
How many burners do you need on the grill?
Most gas grill with at least two burners will be sufficient, but you can set the hot medium and high zones with three to four burners. The heat output will be much high in four-burner gas grill.
Which are the best grill brands?
The most popular grill brands in the market are Weber,char-griller, charbroil. We make a list of the most popular grill brands with the exciting feature you can buy from these brands.
CONCLUSION
In this conclusion, we cannot say which model is best every day new models of gas grills with new incredible features are coming. You have to see the price, the capacity of the grill structure of grill and the warranty, space covered by the grill, and the technology heat output. 
We have provided you with a guide about the grill's features, qualities, positives, and negatives. You should examine each grill features and price and then make the best decision about the grill that can benefit you for many years.