Last Updated on February 23, 2022 by Muhammad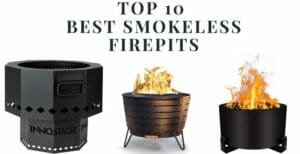 Smokeless Fire pits are the source to enjoy gatherings and outings for the winter season. You do not need to make the fire pits with heavy brick fire pits are available in the shape of lightweight metal bowls that can be moved from one place to another. A fire pit gives you a place to sit with family and enjoy the conversation in the cool evening of winter.
What is Smokeless fire pit?
Smokeless fire pit use wood as fuel, but they produce less ash and burn with less smoke. these are easy to clean and maintain. Today fire pits are available in many sizes, materials, and styles. You can choose fire pits that can fulfill your needs.
Keep in mind there are no fire pits that are 100% smokeless, .but they can produce less ash and will not produce any smell on clothes and hairs. Best smokeless fire pits use wood pellets of high quality that produce heat up to 1000 degrees Fahrenheit. Most models of the best smokeless fire pits are made with stainless steel that can handle high temperatures and are easily portable.
We have selected the different models of fire pits. These fire pits are easy to set up, but they have different features, benefits, strengths, and weaknesses, which you should consider before buying thesmokeless fire pits.
Top 10 Best Smokeless Fire pits in 2022
There are many different types of smokeless fire pits to choose from. Here are some of the best ones on the market.
#1. TIKI Brand 25 Inch Stainless Steel Low Smoke Fire Pit
This is the smokeless fire pit made with 16 gauge stainless steel with an ash pan for easy clean-up. The durable and weather-resistant body of the Tiki brand fire pit is coated with black powder.
You can use the normal firewood in this firepit, but if you use a special tiki brand wood pack, then you can get an instant fire, and the estimated time to burn is 30 minutes per pack.
The tiki brand firepit internal airflow system with better fire with less smoke and less ash. the removable ash pan is easy to clean. The tike brand fire pit is well designed and includes a cover so that you can keep it safe when you are using the firepit.
Features
Simple assembly

It comes with 1 wood pack,1 firepit cover, stand, and guidebook

the 16-gauge stainless steel is durable and waterproof

black powder-coated body

tiki brand wood pack with less smoke and ash
#2. Esright 28.5 Inch Stove Bonfire Fire Pit
Esright is the most elegant and sleek designed pit fire made with 304 stainless steel. This material is rust-resistant and can handle extremely high temperature. The solid material of stainless steel makes it durable.
The double side walls are made to insulate the high temperatures. You can place a layer of glass pellets to make it more attractive. The reflection of flame will look more beautiful. The Esright can be assembled in 5 to 10 minutes. A guidebook, tools, and necessary hardware are given a warranty of 2 years for customer satisfaction.
The Esright has 4 holes in the bottom that gives oxygen to fire through the top 35 vent holes. This innovative combustion system is for better fire with less smoke.
Features
Diameter 28.5"×13.8"(H)

A solid stainless steel fire pit can be used for a long time.

Innovative air vent system for more fire and heat

the design of the fire pit is space-saving

weight is 56 pounds
#3. Cast Master Bon 2000 Dual Purpose Bonfire Pit
The Cast Master Bon 2000 IS constructed with hard stainless steel material. You do not need to worry about rust or corrosion. The stainless steel Bon 2000 is durable and built to remain last for many years.
Place the wood pellets and logs in the bottom of the fire pit.no need for a fan and gas tank to refill the fire will burn with the innovative ventilation and combustion. If you place the cooking grate over the pit and lock the metal tongs, then you can enjoy the outdoor barbeque with this fire pit. You can cook brats, burgers, veggies, kababs, and much more food by using this pit.
Features
Bottom air vents for perfect airflow

BON 2000 is easy to clean and set up

Stainless steel material is sturdy and durable

Stainless steel cooking grate for outdoor cooking
#4. Solo Stove Bonfire Smokeless Fire Pit Stainless Steel
The purpose of a solo stove is to provide a well-designed and the best product that allows you to enjoy social gatherings. Solo stove smokeless fire pit heat is without smoke and smell. This pit fire featured a double-wall design with bottom vents holes that allow oxygen to come into the pit, and then warm oxygen rotates between the stove and burn walls and burn more efficiently.
The bonfire comes with no parts to assemble. There is no need to spend time setting up the fire pit. The sturdy material of stainless steel is used to make up the solo stove fire pit which is durable and long-lasting.
Features
No need to supply gas and propane

Smokeless burning

It is made with high-quality stainless steel

Double-wall design increase the airflow and burning 

Easy to portable
#5. HY-C FG-16-SS Flame Genie Portable Rust Proof Wood Pellet Fire Pit
Another fire pit to enjoy the winter evening with more heat. The fascinating flame and heat will attract you to your backyard. It has a gravitational afterburner system that increases the burn time of wood pellets without smoke.
Flame genie's smokeless feature makes it a perfect fire pit for your backyard and outdoor patio. There is no fear of bad smell and holes in clothes due to a spark of fire. In this flame genie fire pit, you will use wood pellets that have low moisture content and burn more clean efficiently than firewood.
The wood pellets will produce less ash and easy to clean the ash. The fire pit stainless steel material is easy to clean and is rust-resistant. There would be no fear of rust if you left it outdoors—the built-in bottom nest for easy transport and easy storage.
Features
The perfect fire pit for smaller patios, tailgates, and campsites

Solid stainless steel will not rust and damage

Wood pellets produce less ash and contain less moisture

Smoke-free and spark-free heat

Its heat will not leave smell and spark in the fabric

Its weight is 14.3 easy to portable
#6. BioLite FirePit Outdoor Smokeless
Biolite a versatile fire pit that can be used either as a source of heat or to cook food. You can use charcoal or wood on this unique hibachi-style grilling experience. Its airflow system includes 4 fan speeds. You can control the intensity of flames with the help of fans. The fan speed can be adjusted from the firepit's power pack or BioLite app for Android or iOS.
For hibachi-style grilling, you have to lift the fuel rack, insert the charcoals, set the grill grate, and start cooking your favourite food.BioLite comes with a 10400 mAh rechargeable battery power pack with a USB for charging your mobile devices. Place the f firewood logs inside the fire pit, and it will generate high flames with airflow technology, and the fire can be seen from the x.ray mesh body. Its legs can be folded down for easy portability.
Features
It takes less than 30 seconds to start a fire 

You can use charcoal or wood in this hibachi-style fire pit

4 fan speeds to adjust the power of the flame

10400 rechargeable battery power pack

Bluetooth app connects the android and iOS to control the fan intensity

x.ray mesh rack to see the 360 degrees floating fire
#7. Breeo Double Flame Smokeless (19 Inch)
If we see all models of the fire pit, this double flame fire pit is the most durable made with high grade 304 stainless steel. The pit fire is manufactured in Lancaster, Pennsylvania, by BREEO.
Its double flame patio fire pit works when double walls heat up; then the air goes up to the top where it flows out of the holes. When the air mixes with the smoke on top, it causes it to burn, and then the smoke will be reduced. It has small feet to protect the floor of the backyard or patio. The material of the double flame fire pit is rust-resistant and corrosion-resistant.
Features
Advanced smokeless design

Double stainless steel walls

The high-quality material of 304 stainless steel

Most durable fire pit

It is easily portable

Its weight is 42 pounds
#8. Solo Stove Yukon 27″ Backyard Bundle
Enjoy the heat in the winter season with large gatherings. This Yukon in extra large size solo stove fire pits produces the attractive biggest flames of fire to your backyard. It is easy to start a fire in Yukon due to its double-wall design that burst hot air over the fire.no need to use batteries and a fan to reduce the smoke.
In Yukon, large sticks of wood. Logs are used to create fire. the air enters from the bottom holes and then moves towards the fuel source. The double walls heat the air and fed through the top vents, and oxygen levels rise. This oxygen level creates the secondary combustion and high flame that you can enjoy with your family and friends.
The Yukon stand allows you to place the fire pit on heat-sensitive surfaces like wood. The Yukon shelter is used to cover it from rain, dust, and snow. In Yukon, the wood burns in a better way. There will only be left fine ash that can be cleaned easily.
Features
Use the Yukon stand to protect the surface

Yukon cover to protects it from extreme weather

Unique ventilation for secondary combustion and beautiful high flame

It also includes durable solo stove heat shiels

It is easy to clean the ultra-fine ash of this Yukon fire pit
#9. Blue Sky Outdoor Living Smokeless Fire Pit

The blue sky fire pits is efficiently designed and burns with less smoke, sparks, and ash. This blue sky pits can produce a high amount of heat to keep your surroundings warm.
It is easy to assemble, and you can easily carry it for tailgating and storage. It is constructed with rust-resistant solid material of steel that increases the life and durability of the fire pit. This unique design fire pit can generate heat in the burn portion that can exceed 1200 degrees Fahrenheit. The fire pit is painted with high-temperature paint that can handle very high temp.
Features
The blue sky weights 54.9 pounds

Made with sturdy steel

Air vents holes for better heat and combustion

Ready to use the fire pit

It burns with little smoke and sparks
#10. Patented Stainless Bonfire Fire Pit with Portable Carrying
Another double-walled designed fire pit with handles to carry it easily. the airflow is possible with bottom vent holes and double walls warm the air. There will be more heat with less smoke.no worry about the smell or holes in fabric from sparks.
The stainless bonfire has a two-tier structure which is easy to set up with 2 parts. It is easy to lift and clean the bottom ashtray when cold. This fire pit is made with solid 304 stainless steel material, which is rust-resistant and withstands high temperature. The firepit is well designed and long-lasting. It comes with a carrying storage bag to cover it from rain and dirt.
The stainless steel material may rust. You have to clean it and dry it after each use. If rust appears, it will not affect the performance of the fire pit. 
Features
Bottom vent holes for better inflow of oxygen

Mesmerizing flames without smoke and spark

304 stainless steel material is durable and long-lasting

Handles with carrying bag for easy portability

Waterproof lining
Buying Guide

of Best Smokeless Fire Pits



You may want to enjoy the winter evening under the open sky at the beach by seeing the high flames. A smoke-free fire pit allows you to enjoy the heat while sitting in your backyard or at the campsite.
Choosing the right fire pit may be a difficult task for you because there are a lot of factors that you should consider. These include features, price, size, fuel source, and many more. let's discuss this one by one
Combustion system
The burning process of a fire pit, like some fire pits, has a double-wall design, secondary combustion. The purpose of combustion is to send the oxygen from vent holes into the fire for a high and clean burn. The firepits will produce less or no smoke due to this efficient combustion system.
Long-lasting
You should invest your money in a fire pit that can last for a long time. So the fire pit should be sturdy and durable.
You must prefer to Buy a fire pit made with 304 stainless steel, cast iron, powder-coated steel. You should buy a carrying cover for storage so that you can protect the fire pits from uncertain weather and rust.
Portability
This factor is very important. The fire pit should not be heavier to carry. It should be the lightweight and perfect size so you can transfer it from one place to another easily.
You may see handles with a fire pit so that you may lift them easily for storage.
Easy setup
You should buy a fire pit that requires no assembly and can assemble in few minutes.
Consuming time in assembling the fire pits with few parts will ruin your fun. If the firepits consist of two to three parts, then you can set it up easily.
Smokeless
The fire pit should be environment friendly. If the fire pit is producing smoke, then it will pollute the environment. Therefore choosing the smoke-free fire pit not only will be beneficial for health but also for society.
Frequently asked questions
Which is the best fuel that can be used in a fire pit?
You can use wood, propane, and natural gas as fuel, but the best option is easily accessible to use firewood. Firewood can be purchased from any shop. You may take firewood from your home.
How to clean the fire pit?
Cleaning of the fire pit increases the lifetime of the fire pit. First, you have to remove the ash from the bowl with the help of a brush or towel. Then wash it with water and leave it to dry for 48 to 72 hours.
You may also read the instruction book to understand the correct procedure of cleaning.
Are smokeless fire pits worth it?
Smokeless fire pits are growing in popularity. They are a great way to enjoy a fire without the smoke and sparks that come with traditional fire pits. Smokeless fire pits use fuel pellets or propane to create a flame, rather than wood.
There are several types of smokeless fire pits available on the market. Some use fuel pellets, while others use propane. Propane-powered smokeless fire pits tend to be more expensive than those that use fuel pellets, but they are easier to use and produce less smoke.
Many people find that smokeless fire pits produce less heat than traditional fire pits. This can be a disadvantage if you are looking for a source of heat as well as light.
Is it possible to cook on a smokeless fire pit?
Many models of fire pit come with cooking grates that can be placed on the top of fit. You can cook over firewood
Conclusion
We have provided you with a detailed review of the 10 best smokeless fire pits. Their features, pros, cons, fuel type etc. If you plan to buy a smokeless fire pit, choose the firepit that best fits your budget. You may buy a small size lightweight fire pit for the backyard and campsites. It will be easy to portable.
If you want to buy a fire pit for your outdoor parties and tailgating, then you may consider a fire pit with higher heat. You may buy a BioLite FirePit for a hibachi-style grilling experience.
Now it will be easy for you to decide which smokeless fire pit will be your best companion in the winter cold nights. buy the best smokeless fire pit according to your needs and enjoy the fascinating fire experience.