Last Updated on March 5, 2022 by Muhammad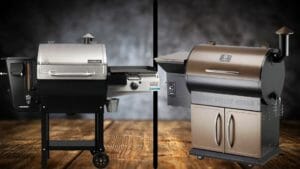 Camp Chef and Z Grills are the largest brands of pellet grills. These companies produce grills with unique features and high-quality materials.
When you choose the model, you have to look for special features that can make your grilling activity convenient. As you know, buying grilling equipment requires a large amount of money and knowledge. You have to check the material, construction, and certain features.
This article will discuss the two models of two brands, camp chef and Z Grills. We will compare their features so you can buy the best pellet grill for your family.
Brands introduction Camp Chef vs Z Grills
Camp Chef
Camp Chef has been manufacturing cooking equipment since 1990. Camp Chef is a reputed company due to its high-quality grills and accessories. However, from 2020 the Camp Chef struggled to find ways to improve its brand. The Camp Chef's main purpose was to provide a high-quality grill at a reasonable price.
The Camp Chef launched the grill with an advanced sidekick feature. You can use the same grill for grilling, baking, BBQ, searing, roasting, braising, and many more. In addition, new Camp Chef grills can be customized according to your personalized needs.
Z grills
Z Grills started the pellet grill business in 2016. After a few years, it became a popular brand in the pellet grills industry. Z Grills are easy to control and provide you with wood-fired flavor food.
Z Grills sell their grill directly to its customer, thus removing the need for resellers. They produce budget-friendly grills. You can see the models with different price ranges and buy the one that is according to your budget and needs.
Camp Chef vs Z GRILLS: Comparison

If you are looking to choose the pellet grill from either of these two models, then it is very important to consider the key differences between these two pellet grills/smokers.
Keep in mind that both units are not double-wall insulated, which means they are not considered best for use in the cold season. So now, let's start comparing their features.
Total cooking surface
The total cooking area of pellet grills consists of two portions: the space on the cooking grate and the other is the space on the upper rack/warming rack.
The main grilling surface is the area that can be used for grilling/smoking. A warming rack will be used to keep the food warm. The Camp Chef 24 provides a total cooking surface of 811 square inches, further divided into a lower rack area of 429 square inches and an upper rack area/warming rack of 382 square inches.
The Z Grills 700D pellet grill provides a total cooking area of 694 square inches, including the main cooking surface of 504 square inches and the warming rack of 190 square inches.
It means Z Grills provides 75 square inches more on the main grilling surface than Camp Chef 24.
Temperature control and smoke control
Camp Chef is the most versatile grill equipped with a new PID controller. It allows you to change the temperature, set the timer, and receive notifications. With smart smoke technology, you can set the level of smoke from 1-to 10. The Camp Chef has a temperature range of 160F to 500F.
The Z grill 700D comes with smart digital temperature control that allows you to adjust the temperature with a 20-degree increment. It has a temperature range of 180°F to 450°F.
I think that a Camp chef with a PID controller smoke setting will provide you with excellent grilling performance as compared to Z grills.
Hopper Capacity
The Camp chef 24 has a 22lbs hopper capacity, whereas, in Z grills, the 700D hopper capacity is smaller than 20 lbs.
The camp chef hopper capacity is enough to store the wood pellets to complete the grilling session.
Price
The price of Z Grills 700D is lower than Camp chef's pellet grill. The Camp Chef is available at $899 and Z Grills at $688.if you want the pellet grills with advanced features, then buy Camp Chef.
Z Grills are an economical option for those who want to fulfill their grilling needs at a low cost.
Camp Chef 24 in. WIFI Woodwind Pellet Grill & Smoker 
Camp Chef 24in woodwind pellet grill is a versatile grill equipped with many advanced features. If you want to buy a grill for just cooking, then buy the Z Grills model. Buy Camp Chef to make the grilling experience more convenient and better.
The best feature of Camp chef, which I like, is the ability to control smoke and temperature with a PID controller. Now it is easy to set temperature times and receive alerts on a mobile phone. With a Wi-Fi controller, you can control the grill from any location. For example, select the level of smoke from numbers 1-10. As you increase the number, the smoke will be more and less as you decrease the number.
In the easy cleaning system Ash-Kickin Cleanout, by pulling a knob, the ash will fall from the burn cup to the removable cup. Repeat this process at the end of each cooking session.
Camp Chef comes with a slide and grill feature. With the pull of a knob, you can switch the flame mode into direct and indirect. The sidekick of Camp Chef is designed to add a griddle, grill, oven, stockpot, and many more. You can sear the meat at a high temperature of 900°F.
Features
Large hopper capacity 22Lbs

Total cooking surface 811 square inches

Quick ash cleanout system

Camp chef app connectivity

Equipped with smart smoke technology and PID controller

4 stainless steel meat probes and ports

Slide and grill with temperature up to 650F

Bottom shelf to store the necessary tools and accessories

Two large caster wheels for easy rolling
Pros
Assembly takes less time

It is easy to change the flavor of pellets

Easy to see control buttons in bright light
Cons
The Wi-Fi connectivity problem at the time of setup

The ash cleanout is difficult

Difficult to move with two wheels
Z GRILLS Wood Pellet Grill Smoker

Z Grills 700D is also made to fulfill your 8-in 1 grilling/cooking needs, including smoke, bake, roast, sear, braise, barbeque,char-grill.
It gives you cooking space on the main grilling area of 504 square inches, which is enough to accommodate 5 chickens, 6 rib racks, and 29 burgers.
The Z Grills 700D is equipped with an automatic pellet feed system and has a temperature range of 180°F to 450°F. The whole body of the grill is made with high-grade steel, and a powder-coated finish makes it long-lasting.
This grill comes with a smart digital control board with an LED temperature display. It helps to adjust the temperature and LED for easy temperature reading.
It doesn't have Wi-Fi or Bluetooth connectivity like the Camp Chef pellet grill, but this grill at a reasonable price can fulfill all your basic grilling needs.
The hopper of Z Grill provides safety with a protective grate. The grill comes with a large storage cabinet that can be used to store the grilling tools. In addition, it comes with a waterproof cover to protect it from uncertain weather.
Features
The main cooking area is 504 square inches, and upper rack with 190 square inches

Hopper capacity 20lbs

Temperature range from 180°F to 450°F

Equipped with an advanced auger system

Non-stick porcelain coated grill grates

Stainless steel handle

Protective grate 

Total BTUs 23000
Pros
Easy to operate

Made with heavy gauge steel

Cleanup is very easy

Easy to put together for beginners
Cons
Lack of meat probes

It doesn't produce much smoke, so I will not recommend this to get a real smoky flavor

Difficult to set a constant level of temperature
FAQs
Does Pit boss make z Grills?
Pit Boss is a popular brand of pellet grills. Z Grills are getting popular as the most economical option in pellet grills in the market. The Z Grills are manufactured by a company located in Australia. Dansons Inc is the manufacturer of Pit Boss.
Are Z Grills reliable?
Z grill is a wood pellet grill that gives your food a smoky flavor. You can use this grill for 8-in-1 grilling needs.
Where are the Camp Chef grills manufactured?
The Camp Chef grills are created in the US, but they are assembled in China. They sell stoves, smokers, fire pits, cast iron cookware, and many types of pellet grills.
Conclusion
The Z Grills are a low-cost option for those who want to experience outdoor grilling with a low budget. I think that Z Grills does not have a comparison with the Camp chef. The PID controller is the requirement of every customer for easy temperature and smoke settings. The Z Grill doesn't have this feature.
Moreover, the Wi-Fi connectivity and sear box for creating beautiful sear marks on steaks are the features that make the Camp Chef an excellent pellet grill model.
I will recommend buying Camp chef 24in a woodwind pellet grill if your budget permits you. You can select any grill according to your need. You should be completely satisfied with your decision.