Last Updated on August 7, 2021 by Muhammad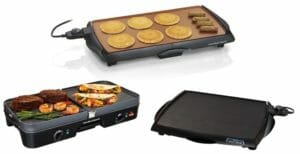 The griddles are mostly known due to their most versatile cooking surface. You can use the electric ceramic griddle surface for cooking a hamburger and using the same surface to heat the buns. The ceramic griddle comes with wider cooktops that provide you a large space to cook for many friends. The same griddle can also use as a warming tray.
The use of ceramic griddle is increasing due to its features and advantages. The ceramic griddles heat up very quickly and provide consistent heat. They are easy to clean. The food cooked on ceramic griddles will be better cooked and will be ready to eat quicker. a lot of new models of ceramic griddles are coming on the market. You should choose the best model that can properly serve you. we have selected the 5 best ceramic models with the best features. You can select one model from our list.
The Top 5 Best Ceramic Electric Griddles
#1. Hamilton Beach Electric Griddle Grill
This unique 3-in-1 hamilton beach electric can be used as a grill/griddle or both at once. It can be used indoors as kitchen equipment. The cooking surface of ceramic griddle 180square inches can be used to cook up to 8 servings for the family meal. It has non-stick reversible and removable plates that make the cleaning process easy.
The unique feature of Hamilton is that it has two cooking areas with two adjustable heat controls. You can prepare all your food at once. The griddle has a center drip tray. All the extra and grease falls to the tray. You just have to remove the tray and clean it. The removable plates and drip tray both are dishwasher safe and make cleaning easy and quick.
The Hamilton griddle gives you the freedom to prepare your breakfast, lunch, and dinner. It can be used to make pancakes, eggs, and bacon, hamburgers, steaks, and many more items. The griddle is durable, and the PFOA-free non-stick coating will not be crack and damage. The food will be healthier and safer cooking on this ceramic griddle.
Features
3-in-1 can be used as a full griddle, full grill, half grill/half griddle

The 2 non-stick coated removable cooking plate

The extra fat and grease drain to the center grease tray

Two cooking surfaces with independent heat control dials.

PFOA free non-stick cooking plates 
#2. Presto 07046 Tilt 'n Drain Big Griddle Cool-Touch Electric Griddle
Pesto is the griddle to fulfill all your cooking needs. It has a unique tilt drain feature to adjust its grilling surface from level surface to tilted draining surface. You have to pull out the handle to tilt the grilling surface at the time of cooking meats. Push the handles back for a level surface to cook the pancakes and eggs.
The grilling surface is made with heavy aluminum metal and a high-quality non-stick surface that can be cleaned easily. it has a grilling surface that can make 50%more food than any other griddle. It also has adjustable temperature control that is removable for cleaning. the griddle is immersible in water when the heat controls are removed. 
The griddle area of presto is large, with dimensions 23 by 17.25 inches. It allows you to make more pancakes. Presto 07046 is a high-performance and durable griddle. It has raised edges from all sides to prevent the food from spilling. It also has easy-to-operate heat control settings.
Features
It has a grilling surface to cook 12 slices of French toast in one time

The drip tray catches all the grease and excess fat

Pull out the tray and clean it easily

Tilt'ndrain feature from the level surface (eggs, pancakes) to draining surface (meat)

Non-stick cooking surface is easy to clean and prevents the food from sticking.

Control master heat control maintains the desired cooking temperature

Able to cook 50% more food than other jumbo griddles

120 volts,60Hz only
#3. BLACK+DECKER Family-Sized Electric Griddle with Warming Tray & Drip Tray, GD2051B
BLACK+DECKER is another large capacity griddle that can be used to prepare the meal for the whole family of 8 servings. It offers you a cooking area of 200 square inches. The griddle area can be used to cook all your favorite breakfast food, including eggs, bacon, and hash browns.
The BLACK+DECKER has a non-stick cooking surface that is best for easy clean-up and fast cooking. It features with warming tray that allows you to place your cooked food on a warming tray to keep it warm. This griddle features with detachable thermostat with adjustable temperature control. It also has a removable grease tray. All the grease and fat drain towards the grease tray.
Features
200 square inches cooking surface is ideal to meet all your cooking needs

Non-stick durable surface for quick and easy cleanup

Warming rack to keep food warm until you are ready to serve

Click and lock the thermostat to adjust the temperature

Slide-out the grease tray for easy cleaning

Temperature ready light indicates when the grill heats up to the desired temperature

Cool-touch handles
#4. Presto 22 Ceramic Electric Griddles
The presto skillet with non-stick ceramic surface from inner sides and outer is best for stick-free cooking and easy cleaning. The large size 16-inch pan with high side walls can make every kind of food for the whole family. It has a glass cover with easy-to-touch cool handles. You can use it as a food serving pan. It is easy to set the desired cooking temperature with control master heat. This heavy cast aluminum pan would not bend and is fully immersible in water when you have removed its heat control.
The large electric griddle with 22-inch space is enough to make all your favorite food at once. You can store this griddle in your kitchen cabinet for easy access. It has a textured ceramic cooking surface with a non-stick coating for an easy cleaning process. You can make your breakfast meal, lunch, and dinner. It has removable handles. You need to open the latch clips and remove the handle for storage and cleaning.
The control master heat control gives you full control to adjust the heat. This is also made with heavy cast aluminum and warp proof.it has a removable drip tray, and the griddle can be fully immersed into water for quick clean-ups with the heat control removed.
Feature
Use this versatile electric skillet for roast fry grill stew bake make casseroles, and many more

Ceramic high-quality surface from all sides

Heavy cast aluminum pan with stay-cool handles

It can be used as a serving pan

Warp proof

A large griddle area of 22 inches can be used to make every kind of food

Textured ceramic surface with con stick coating

Removable handles for convenient storage and cleaning

Fully immersible in water after removing the heat control system
#5. Hamilton Beach Ceramic Griddles, 200 sq. in, Black
If you want to prepare meals without any effort or work, Hamilton beach 38518R can be used to make breakfast. The smooth surface electric griddle is best for pancakes, bacon, and fried eggs. You can even cook cheese sandwiches to serve in lunch or hamburgers and hotdogs for dinner.
It offers you a 200 square inches cooking surface that is four times more durable than any traditional non-stick surface griddle. It is PTFE and PFOA-free that won't damage or peel.
It gives you full control over temperature with a temperature range from 200° to 400°F. The cooktop of the griddle can be removed and immersed in water with heat control and cord removed. It has a removable grease tray. Pull out the grease tray and empty the grease in the trash box. Built-in handles that remain cool to touch.
Features
The cooking surface of 200 square inches

It has a ceramic surface with a nonstick coating

Its non-stick surface is 4x more durable 

Easy to adjust the heat

Handles will remain cool during all cooking process
Buying Guide Of Ceramic Electric Griddles
What feature to look for best ceramic electric griddle here? We will write some important features that you should consider before selecting the best electric griddles.
Size
How many members do you have in your family? You have a large family of 8 or a small family of two. This is the most important aspect that you need to decide on before buying a griddle.
Large size griddles are suitable for bigger families to make breakfast, lunch, and dinner. But always remember the large size griddles require more storage space. Small size griddles are made basically for couples and do not cover much space.
Cooking surface
Electric griddles are available in the market with different cooking surfaces. They may have different coatings like ceramic and non-stick coatings. Buy the electric griddle with a cooking surface that can fulfill all your cooking needs.
Heating system
When you cook different foods on the griddle surface, then they require different heat levels. When you cook an egg and pancake, it will be prepared in a simple way that requires less heat, while searing steaks or fish requires different heat levels.
The electric griddle must have an accurate temperature control mechanism. It could be a button or a dial. the heating control button must be near the cooking surface so that you can use it easily while cooking meals
Warming tray
Some electric griddle comes with a heating tray that can be used to keep the food warm while you are ready to serve the entire meal. This tray is made to prevent the food from being burnt.
Easy cleaning
The electric griddle should be easy to clean. The rust will start to appear if you don't clean it properly. The electric griddle must have a drip tray to collect the grease and fat of food. It should be removable and dishwasher safe. The most electric griddle can be fully immersed in water for easy cleaning.
Price
The higher the price, the more you get means if you spend more money, you will get more advanced features. Some electric griddle with high price offers you high-quality performance. But you have to spend money on the griddle that is offering you more features at a reasonable price.
Conclusion
Our best pick is Hamilton Beach 3-in-1 Electric Indoor Grill, a 3-in-1 versatile model with two independent heat control dials 180 square inches surface for 8 servings. You must decide the size of the griddle. All the griddles are of high quality and high performance.buy the griddle according to your preferences and budget.