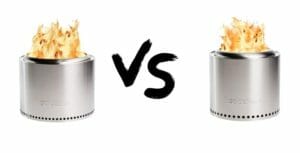 When you decide to buy a portable fire pit for your outdoor activities, a solo stove is on the top list. Best fire pit to gather around with all your friends and family members. The fire gets started in the solo stove easily and quickly than a traditional fire pit model. You have to think about the exact model of the solo stove which is suitable for you.
Both solo stove ranger and bonfire have the same design burn smokeless, but the main difference is size and capacity. If you are a couple and solo person and thinking of taking the fire pit to the campsite, then a solo stove ranger is the ideal option for you. On the other hand, if you are a family and want to place the stove in the backyard, a solo stove bonfire will be a great option.
Solo Stove Ranger vs Solo Stove Bonfire
Solo Stove Ranger Outdoor Fire Pit Stainless Steel Portable Fire Pits for Wood Burning

Solo stove always strives to manufacture products that are easier to use and allows you to enjoy the gatherings. It is designed to burn efficiently with less smoke. double-wall design maximizes the airflow and boosts the burning process.
In the complete burn-in solo stove, the little wood pieces will burn up by the top vents.no more half-burned logs to handle. It burns without smoke, so you do not need to spend time to prevent your clothes and hair from smoke. You will have more time to enjoy the fire.
The solo stove is lightweight and easy to portable. If you think to move it from one place to another, you can carry it easily, no need to call the person for help. It comes fully assemble.no need to attach the parts and small pieces.
Features
Burn with low smoke

Easily portable

Made with stainless steel and durable 

Burn hot and clear there will only be left the fine ash that can clean up easily

Perfect stove for those living in small spaces

Easy setup just flip the ring and start the fire

Use the ranger to toast the marshmallows for your party
Solo Stove Bonfire Fire Pit – Smokeless Large 19.5 Inch Stainless Steel Outdoor Firepit
The most beautiful design fire pit use it as the best backyard ambience for your summer party. This firepit will efficiently burn with dry hardwoods such as birch, maple, hickory, and oak. They will burn longer than softwoods.
Bonfire made with high-quality material of stainless steel. Bottom holes allow oxygen inflow and circulating the warm oxygen up, throwing it over the fire and creating a secondary burn that burns all small pieces of wood. The top vents create a beautiful flame pattern that everyone will enjoy.
Related: Solo stove vs Tiki Fire pit
The raised ash pan collects the embers and coals and does not block the airflow. It is also uplifted to protect the surface. The smokeless fire pit will not leave any smell on your clothes and hair—a simple and portable design with no parts for assembly.
Features
Complete and efficient burn

Easy to use and portable design

The base plate allows the continuous supply of air to enter and feed the fire

No need for propane and gas. Only firewoods are needed.
Difference Solo Stove Ranger vs Bonfire
| Performance | Solo Stove Ranger | Solo Stove Bonfire |
| --- | --- | --- |
| Weight | 15 pounds | 20pounds |
| Height | 12.5 inches | 14 inches |
| Fuel | chunk wood | firewood logs |
| Material | stainless steel | stainless steel |
| Width | 15 inches | 19.5 inches |
| Suggested uses | backyard/camping | backyard/camping |
| | Check Price | Check Price |
Capacity
If we check the bonfire weight, then it is 5 pounds more which is enough for a family of four to five people.
Ranger size is not enough for a group of people you can use it, but you will find it small size firepit to do the job.
When you buy a fire pit for your backyard, it is essential to consider the size or measure the place. If you have limited space, then buy the ranger; otherwise, choose the bonfire.
Portability
Both fire pits have the same design that allows them to pack down easily during camping. The parts, including a fire ring, stand, or shields, can be fitted in the stove. The weight of a bonfire is more, so a ranger is considered much portable and compact.
Roasting
Both stoves can be used for roasting sausages and marshmallows. If you use them then at the end their cleaning will be most difficult. You have to buy a cooking grate to cook with a stove.
Compared to bonfire solo stove is considered best for cooking and roasting due to its small size. Moreover, it can be cleaned easily.
Conclusion 
We hope that by reading this article, you can easily purchase the ideal stove from the market. Then, all you need to consider is the size of the stove and capacity. the place where you will keep the fire pit.
The solo stove fire pits are easy to start and burns hotter with almost no smoke. The price of these fire pits is slightly higher, but they are made with premium quality material to last for a long time. When you invest your money, then you will surely get the value of your investment.