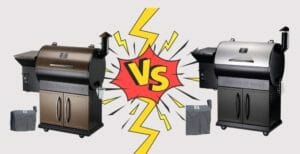 The z grills have been manufacturing grills for 30 years. The grills manufactured by z grills are solid and efficient. Their top-selling and popular grill series is the 700 series. Therefore it is necessary to talk about these grills. Z grills have been making high-quality pellet grills at a reasonable price. Z Grill can be used as a grill and smoker. You can consider it as a versatile grill with multiple cooking options.
Pellet Grills
At home grilling, three options are available Pellet grills, charcoal grills, and gas grills. The heat in these grills is created with fuel and oxygen in the pellet grill. Wood pellets made with sawdust are used in pellet grills. These are compressed in the shape of pellets as fuel. Pellets come in different flavors hickory, mesquite, oak, cherry, etc.
In pellet grill works with an automatic feed system of wood pellets. First, in the firebox, the wood pellets are ignited. Then a fan distributes the heat and smoke to all sides of the cooking chamber. This is called the convection style cooking environment, where food is cooked on even heat. In ZGrills, set the temperature with a digital control system and forget it the cooking process will be started.
We will compare two models of pellets grill 700D and 77E so that you can decide the best grill that can perform efficiently.
Z Grill 700D vs Z Grill ZPG-700E

Z GRILLS ZPG-700D Wood Pellet Grill Smoker for Outdoor Cooking with Cover, 2021
The Zgrills made grills by always focusing and innovating new features to satisfy their customers by providing a valuable cooking experience.the 8-in-1 pellet grill allow to grill,BBQ,smoke,roast,braise,bake,sear and char-grill.a versatile grill for fast /hot and low/slow cook. Smoke ribs, fish, bake pizzas and biscuits, grill burgers, vegetables, make patties, and many more you want to cook.
Equipped with the advanced wood-fired system, there is no need to add wood pellets manually. The automatic system of adding wood pellets and the temperature will be set accordingly. The 20lbs wood pellets will be used for 10 hours. You do not need to wait for refilling the hooper.
ZPG-700D includes an LCD and digital control that lets you control the temperature easily. solid construction with steel and high temperature coated finish makes the grill last for many years. The porcelain-enameled coated grates ideal for retaining heat, and the stainless steel handle and a sealed lid helps to store the smoke and heat inside the grill.
The protective hooper grate is added to protect you from the auger. Extra storage space in the large cabinet allows you to store grilling tools and condiments—the portable design grill with a handle on the left side of the hooper and caster wheels. The cover to protect it from all extreme weather is also included.
Features
The grill with a large cooking surface of 694 square inches

8-in-1 versatile grill

No need to refill the hopper. It will fill automatically

Digital temperature control dial and LCD

Constructed with steel and porcelain-coated grates and a well-sealed lid

A large storage cabinet to store bbq tools and wood pellets
Z GRILLS ZPG-700E 2020 Upgrade Wood Pellet Grill & Smoker, 8 in 1 BBQ Grill Auto Temperature Control, inch Cooking Area, 700 sq in Stainless & Black
The easy way to eat smoked food is to cook with a pellet grill. You will feel the different tastes of gas and charcoal grills. The fuel-efficient grill uses 20lbs of wood pellets for 20 hours. The use of pellets costs less than gas and carbon grill.
It comes with an easy start electronic ignition button one button to start the whole cooking process. It also includes the digital auto temperature control dial and LED display for easy read-out. The grill temperature stays within 10 degrees of the set temperature. It is easy to use for new beginners .built in a fan-forced convection system that creates the perfect environment for grilling, braising, smoking, and baking. As a result, the food will be food with even and consistent heat.
ZPG-700E cooks food with a temperature range of 180° to 450°. The waste oil collector collects the excess grease and oil and helps for easy and safe clean-up. The grill also includes a foldable side shelf and a storage cabinet—the heavy-duty wheels for easy portability and a cover that protects it from rust and weather.
Features
Large hooper capacity 20lbs

Total surface area 700 square incles also incudes warming rack 190 square inches

6-in-1 versatile grill to grill,smoke,bake,roast,braise,barbeque

Electronic ignition button and digital temperature control

Temperature range 180° to 450°

Built-in waste oil collector

Long-lasting grill build with stainless steel with a sleek and polished finish
Z Grills 700D vs. 700E, which is better?
| Performance | Z grills 700d | Z Grills 700E |
| --- | --- | --- |
| Total cooking area | 700square inches | 700square inches |
| Temperature range | 180 to 450° | 180 to 450° |
| Weight | 146 pounds | 92.6 pounds |
| Hooper capacityl | 20 lbs | 20 lbs |
| Grill grate material | porcelain coated steel | porcelain coated steel |
| Warranty | 3 | 3 |
| Dimensions | 48×22×51 | 48×22×51 |
| | Check Price | Check Price |
Cooking surface
The first and important feature of choosing a grill is its cooking area. Both grills 700D and 700E have 700 square inches of total space, including a warming rack. It is a huge area to cook large pieces of food.
Versatility
Both grills come with 8-in-1 versatile features the same cooking area of both grills can be used to smoke, ribs, jerky, fish, bake biscuits, pizza, grill burgers, vegetables, and many items.
Digital temperature control system
The grill 700D and 700E have a built-in temperature control dial to adjust the temperature accurately and precisely and a LED readout that displays the temperature.
Advanced auger system
The Z Grills advanced auger system makes it easy to automatically add wood pellets according to the desired temperature.no need to fill the pellets by hand.
Price
If we look at the prices of both grills, the Z Grill 700D is available at a lower price than 700E. This is because both grills have the same features and long-lasting and durable grills.
Conclusion
If you want to buy an efficient pellet grill at a reasonable price that can be used as a grill and smoker, then we will suggest you buy Z Grills 700D. The features of both grills are the same, so it will be beneficial to buy the grill with less price. they are easy to operate and lets you perform multiple cooking operations in one cooking area
Buy a grill that can last for a long time and build with high-quality material. We hope that this article will provide you with all the information that can help you make a decision. if you want to check some other grill models, then check our other articles as well.