Last Updated on April 11, 2022 by Muhammad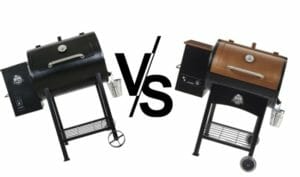 In a pellet grill, wood pellets are used as fuel. In charcoal grills, it may be a little bit difficult to control the temperature. But in a pellet grill, you just set the temperature, and pellets will be automatically added into a burner pot no need to spend time monitoring the temperature. As a result, you can eat the real smoky flavor food with fewer struggles.
There is a lot of brands of pellets grill out there, and all of them have different models with various features. So it may be difficult to buy the desired model from the market. That's why to make things easy. We are comparing the two pit boss pellet grills Pit Boss 700fb to the Classic Pit boss 700 sq.in.first, we will compare the specifications of both models in a comparison table.
Pit Boss 700FB vs Classic: A Detailed Comparison
PIT BOSS 700FB Pellet Grill, 700 sq. In
There is no need to go to the restaurant because if you cooked food on pit boss, you would eat the restaurant quality at home. The size of 700 square inches is enough to cook 32 burgers at once. So you can prepare a meal for four to six persons. The flame broiler is a slide plate that allows you to cook food on direct flame. Easy to control the temperature from 170° to 600°F. It comes with a digital control board easy to monitor and adjust the temperature without opening the lid.
Pittboss 700 FB gives you more time to enjoy the barbeque with friends. You do not need to watch the temperature. It gives you the versatility to smoke, bake, braise, roast, grill, barbeque, chargrill and sear. The pit boss will do all work for you. The cooking grates are porcelain-coated cast iron that is heat resistant and clean easily.
Some other features of pit boss 700 FB include a dome thermometer, large capacity hopper, durable powder-coated finish, a wire bottom rack, and sturdy legs with 2 large wheels for easy moving.
Features
The burning system is digitally controlled

Thermostatic control with LED 

Flame broiler for heat zones direct and indirect

Dome thermometer for checking the temperature

Temperature range of 170°-600°F

Porcelain-coated cast iron cooking surface of 700 square inches

Versatile grill with 8-in -1
Pit Boss Classic 700 sq. in

The Pit Boss classic with 8-in-1 cooking options to grill, smoke, bake, roast, sear, braise, barbeque, and chargrill. The grilling area gives you 700 square inches of space to make multiple items at one time. The temperature range is from 180° to 500°F. It gives you the option to select the cooking style and temperature from the digital control board. Comes with a searing option on an open flame.
There is no need for natural gas and propane supply. You have to buy the wood pellets of your favourite taste and start the cooking process. The cooking surface is porcelain coated and has heavy gauge steel components for more durability.
Features
700 square inches cooking surface including second-tier rack

Direct flame cooking is possible with a flame broiler

The hopper capacity is 21 lb

Meat probe with LED 

Powder-coated steel finish

Digital control board to adjust the temperature easily
Pit Boss 700FB vs Classic: Comparison Table
| Performance | Pit Boss 700fb | Classic Pit boss |
| --- | --- | --- |
| | | |
| Fuel | natural gas,wood | wood,natural gas |
| Cooking surface | 700 square inches | 700 square inches |
| Hooper capacity | 21 pound | 21 pounds |
| Temperature range | 170° to 600° F | 180°-500° f |
| Flame broiler | Yes | Yes |
| Wheels | 2 | 2 |
| Cooking grates | porcelain coated | porcelain coated |
| | Check Price | Check Price |
What is the difference between the Pit Boss 700 FB and Pit boss classic?
We will explain the difference between these two grills. We will compare the features that are better than other grills
Digital control board
The pit boss FB uses the V1 digital control board, and the pit boss classic with the V1 control board. The pit boss classic control board also has two meat probes buttons. It also includes a separate button for quick heat recovery. If you see the control board of pit boss FB, then you will only see a knob to set temperature and a screen.no other buttons for meat probe and heat recovery. In this feature, pit boss classic is best.
BTUs
As you know, BTUs show the power of the grill. The Pis boss FB has higher 40000 BTUs whereas the pit boss classic 20700 BTUs. It means the pit boss FB is better from Pit boss classic.
But both grills have the same temperature range from 180° to 500° it means that the grill with higher BTUs doesn't indicate that the grill is better. Higher BTUs means the grill will heat the entire cooking surface quickly by using more fuel. so we will give our favour to Pit Boss classic
Wheels
The classic 700 FB comes with steel wheels. They may be difficult to move. However, if you look at the pit boss classic wheels, they look stronger, made with hard plastic, and move easily. buy the grill, which can be moved easily without much effort.
Final Thoughts

We will recommend you to buy Pit boss Classic, although Pit boss 700fb has a higher BTUs value. But the classic grill comes with a new and improved control board with meat probes.
If you check the surface area, temperature range, and performance-wise both grills are the same. The selection will depend on your preference. You can choose any grill. Both grills are constructed with high-quality material, and they are built to last.